Saj Bread
I found this bread recipe from
here
when I first started learning how to bake bread. Since then, I've learned a lot about bread making and have been playing with the recipes I use, including this one.
This bread, when made small enough, is great for bentos. My kids love dipping it in Ranch dressing, and I've found if you set it up when it's still soft, it can make a great mini flat bread for sandwiches—you just need to curve it before you freeze it if you're storing it. The recipe below includes my adjustments, changes, and tips that I find help make it work better for me. And if you've never made bread, it's a simple place to start. :)
(Honestly, I know the recipe looks long, but it's not that hard, promise!)
Saj Bread
1 TBL Active, Dry Yeast
1 TBL Sugar
1 1/2 c. Warm Water (110-115*—no higher, no lower!)
3 1/2 c. All-Purpose Flour
1/2 tsp. Salt
1 Finely Chopped Green Onion (opt)
1/2 - 1 tsp of Herbs of your choice (opt; the one below has dried Rosemary)
Olive Oil as needed
Heat oven to 100*. Combine flour and salt; whisk together, set aside. Combine yeast and water, add sugar. Stir until creamy. Add any herbs or seasonings (fresh garlic, green onion, whatever) as desired. Sift in flour/salt mixture and combine, making sure to get all flour into the dough and to clean off the sides of the bowl. Roll onto lightly floured bread board and kneed, adding more flour as needed (be very careful, you still want a soft dough when done), until bread is only slightly sticky (the recipe says until it's no longer sticky, but in my experience, bread doughs always have a slight stickiness to them). Form into a ball and place in a large oiled bowl and roll around until the entire ball is coated. Turn oven temp down halfway to off, place a towel over the bowl and place bowl in oven. Let rise 1 hour OR until bread is doubled in size (size is more important than time).
Punch down and turn dough out onto lightly floured board and kneed at least 5 minutes or until no longer sticky (yes, again, lol). Separate into two halves and make sure to have dough resting on a floured section of your bread board. Work with one half at a time to form and cook the bread. If too much uncooked dough is stacked on top of uncooked dough, they start to stick even with the oil coating them; using only half the dough at a time and stacking on 2 separate plates should prevent that. So, using half the dough, break of small amounts and form small balls this size or smaller:
If you make them too much bigger, they'll be too big for the boxes, so I tend to error on the side of smaller. I use a tortilla press to flatten them, but you can roll them out, use two plates, or even just your hands. Regardless, you will need to place them between oiled pieces of wax paper. What I do with the press is use a piece of folded wax paper on top, a piece of wax paper on the bottom plate, oil the both, put the ball down, press, then just remove the bottom wax paper with the flattened bread to a plate (alternate plates to avoid getting a stack so heavy that the bread sticks to the wax paper despite the oil). The wax paper used for the top gets used over and over until done with the pressing.
One you have half the dough made into flattened circles, heat up a pan to about low to medium heat and place the circles in 2 or 3 at a time (I lift from the stack with the wax paper, turn them over and gently drop into the pan). Cook each side until a golden color (I use the spatula to flatten a bit when I flip them) and move to a clean plate to cool.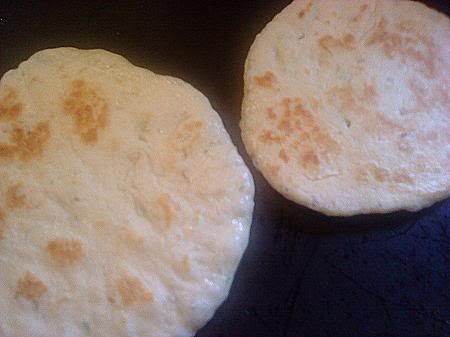 When finished cooking the first set of breads, repeat the whole process with the second half of the dough. Let all the bread cool completely before storing. Once cooled, can be stored in a freezer bag in the freezer until you want to use them. Makes about 3 dozen small flat breads.
As noted above, they can be used to make flat bread sandwiches (I made a meatball one a bit back) or can be dipped in hummus or dressing. I'm sure there are other creative ways to use them in bentos as well, and I'd love to see what you guys come up with.
You can find my tips for bread baking at the bottom of
this
post.